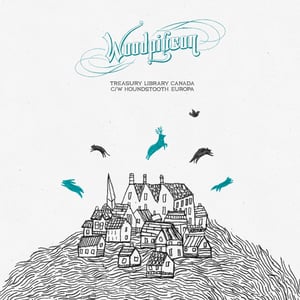 €

8.00 - On Sale
Treasury Library Canada
Originally a limited release available only online and off-stage.
Fourteen tracks are packed into this marvellously beguiling package, each and all dealing with returning home after self-imposed exile. Folksy, rootsy, pop-y, indie and all points, perspectives and colours in between, Woodpigeon combine rare intelligence with insight and inventiveness to produce songs that seep and surge into the imagination and linger long after there like bittersweet inherited memories.
"Treasury is a left-field gem... you can't help but fall in love with." - Chromewaves
01. Knock Knock
02. Piano Pieces For Adult Beginners
03. In the Battle of Sun vs. Curtains, Sun Loses and We Sleep Until Noon
04. I Live a Lot of Places
05. Cities of Weather
06. 7th Fret Over Andres
07. A Moment's Peace for Mary Christa O'Keefe
08. Anna, Girl in the Clocktower
09. The Hamilton Academicals
10. Love in the Time of Hopscotch
11. Emma et Hampus
12. Now You Like Me How?
13. Bad News Brown
14. Tic Tac Toe / Woolen Endings
(Ask for a free download of bonus album 'Houndstooth Europa' with your order)